Cassette

Long lasting performance
LINKGLIDE SHIFTING TECHNOLOGY
Shimano LINKGLIDE sets a new standard for smooth and reliable shifting. Its robust original design delivers far greater durability and smooth shifting for long-lasting performance.
LINKGLIDE DELIVERS
LONG-LASTING PERFORMANCE
3X More Durable
Drivetrain durability is essential for high torque e-bikes and daily riders who might ride in the same gear for months or years at a time. LINKGLIDE provides smooth and decisive shifting that lasts longer than ever before.
LINKGLIDE's re-designed cassette teeth have a substantially thicker base and a unique chamfer that drastically improves wear resistance in high torque applications. This increase in cassette durability prolongs smooth driving performance and lengthens the amount of time before chain skips caused by wear start to happen.
Increased Longevity / Less Skipping
PREVIOUS*
x300%
1x
2x
3x
Robust Teeth Design
A major advantage of the LINKGLIDE platform is that the robust teeth shape provide excellent durability and improved wear resistance.
This is very important because riders who often buy bikes at this level, choose bikes with gearing but may forget to shift or maintain their bikes as often as they should.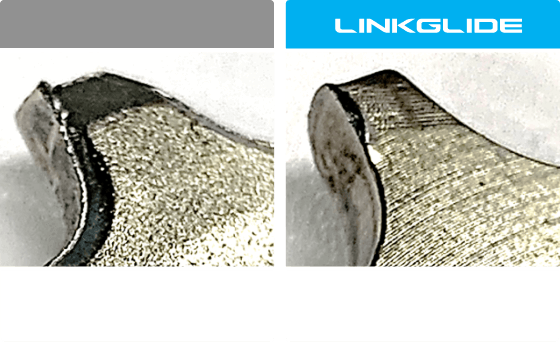 PREVIOUS*
1200 shifts = Loss of performance
5000 shifts = Shift smoothness retained
3X Smoother
LINKGLIDE provides smooth shifting while pedaling for a consistent and confident ride experience.
LINKGLIDE's optimized gear gate design makes shifting smoother with significantly less shock.
LINKGLIDE delivers up to three times smoother performance by improving the chain's flow between cogs. This smoother handoff reduces the stress of shifting shock for more seamless and enjoyable riding.
Smoother pedaling from start to finish
Crank idling angle during up/outward shifts (lower = smoother)
Deflection

( 67% less deflection )
PREVIOUS*
LINKGLIDE's optimized shifting gate design that creates a smoother handoff between cogs to avoid the jumps that can impact shifting and pedaling smoothness.
This design improvement is especially pronounced on outward shifts where pedaling shock is more noticeable due to the larger forces involved.
Shifter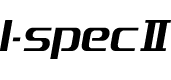 I-SPEC II
---
Simple structure with narrow brake lever clamp band
More space on handle bar and cleaner appearance.

Series
Shifter
slide adjust
range (mm)
OPTICAL GEAR
DISPLAY spec
Recommended
brake lever
rotation angle adjust range (degree)
Right
SL-M9000-IR
12
-
BL-9000
BL-M9020
15
SL-M8000-IR
12
-
BL-M8000
15
SL-M7000-IR
12
-
BL-M7000
-
SL-M6000-IR
-
-
BL-M6000
-
SL-U8000-IR
-
-
BL-U8000
20
-
✔
20
Left
SL-M9000-IL
12
-
BL-9000
BL-M9020
15
SL-M8000-IL
12
-
BL-M8000
15
SL-M7000-IL
12
-
BL-M7000
-
SL-M6000-IL
-
-
BL-M6000
-
SL-U8000-IL
-
-
BL-U8000
20
-
✔
20

✔ = Yes

RAPIDFIRE PLUS
---
Mountain bikers have used RAPIDFIRE PLUS since 1985. RAPIDFIRE PLUS is still a winning choice from a wide range of riders from XC racers to free riders. RAPIDFIRE PLUS is suited to quick shifting, giving riders the ability to downshift three gears in one stroke. RAPIDFIRE PLUS shifters from SHIMANO DEORE to XTR all feature 2-WAY RELEASE, which means release shifts by pull of the index finger or push of the thumb.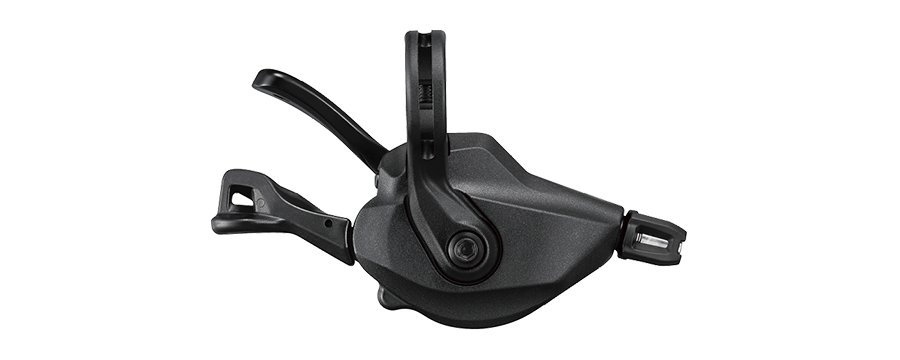 RAPIDFIRE PLUS MONO
---
RAPIDFIRE PLUS MONO LEVER provides intuitive and simple front control that empowers riders to shift both up and down with a single lightweight and compact lever.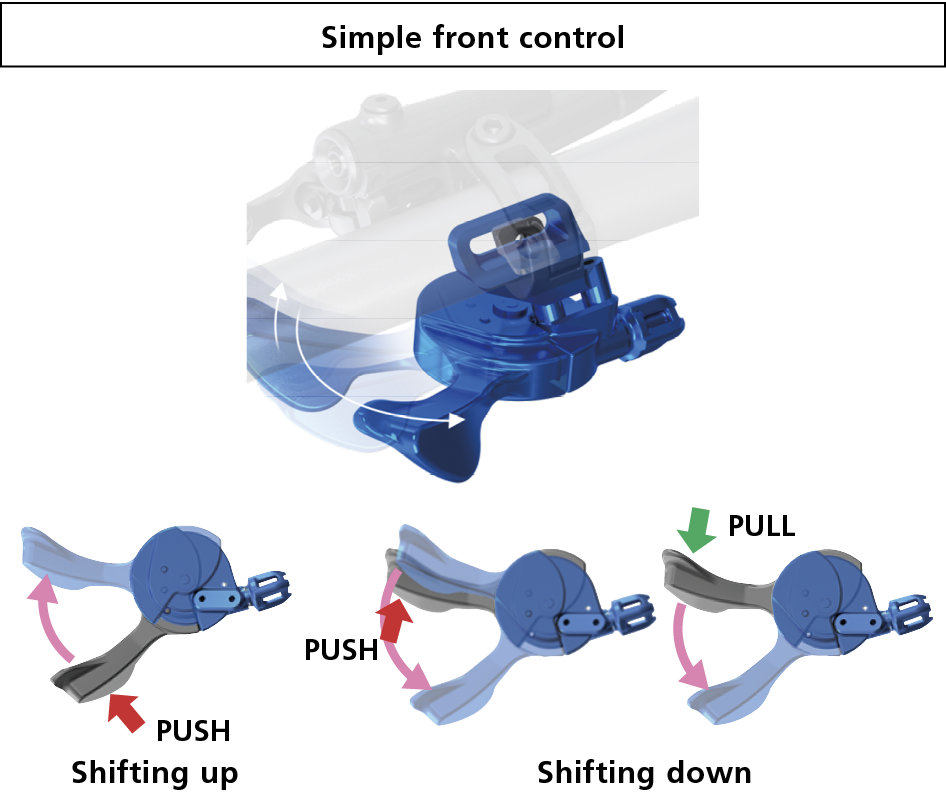 RAPIDFIRE PLUS MONO LEVER's simple and intuitive lever operation allows riders to shift both up and down with a single lever. It supports front double shifting with natural finger positioning and intuitive shifting operation while maintaining a solid grip on the handlebar.
2-WAY RELEASE functionality delivers instantaneous push & pull movements to help riders respond quickly and accurately to rapidly changing conditions.

---
The OPTICAL GEAR DISPLAY tells you which gear position is selected while riding your bike. You can see how many gears you can select either on the low side or top side, which makes shifting control easier.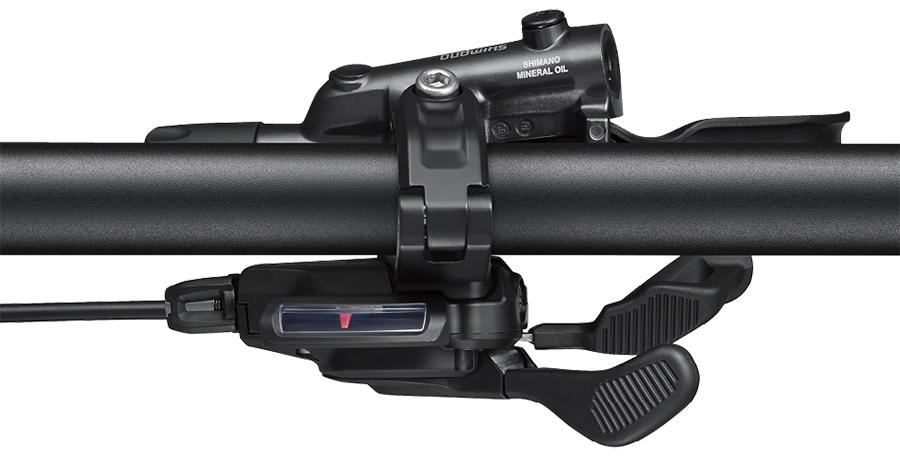 2-WAY RELEASE
---
The RAPIDFIRE PLUS shifter release lever is commonly called a trigger because it is operated like a pistol, by pulling toward the grip. The release lever of RAPIDFIRE PLUS shifters from SHIMANO ALIVIO to XTR can be operated in this same manner but adds the ability to activate a release shift by pushing with the thumb.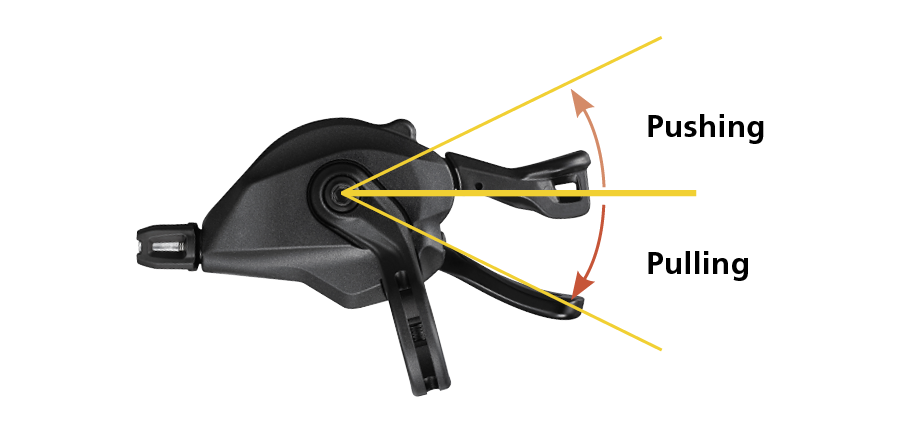 OPTISLICK
---
OPTISLICK cables feature a minimal and uniform electrically coated layer that improves cable routing efficiency and provides excellent corrosion resistance.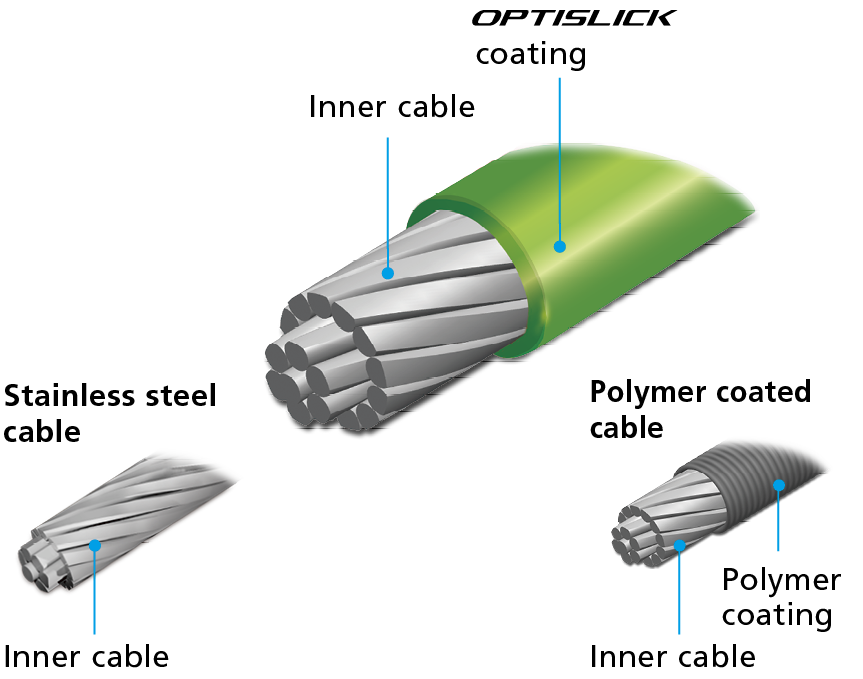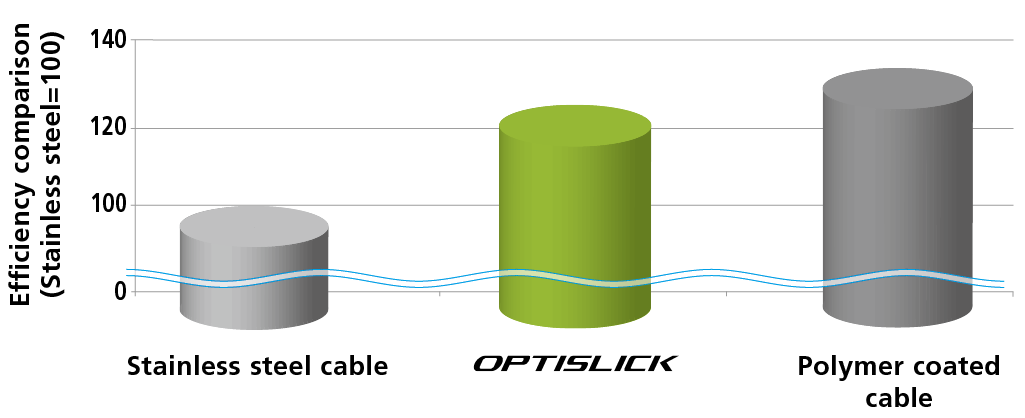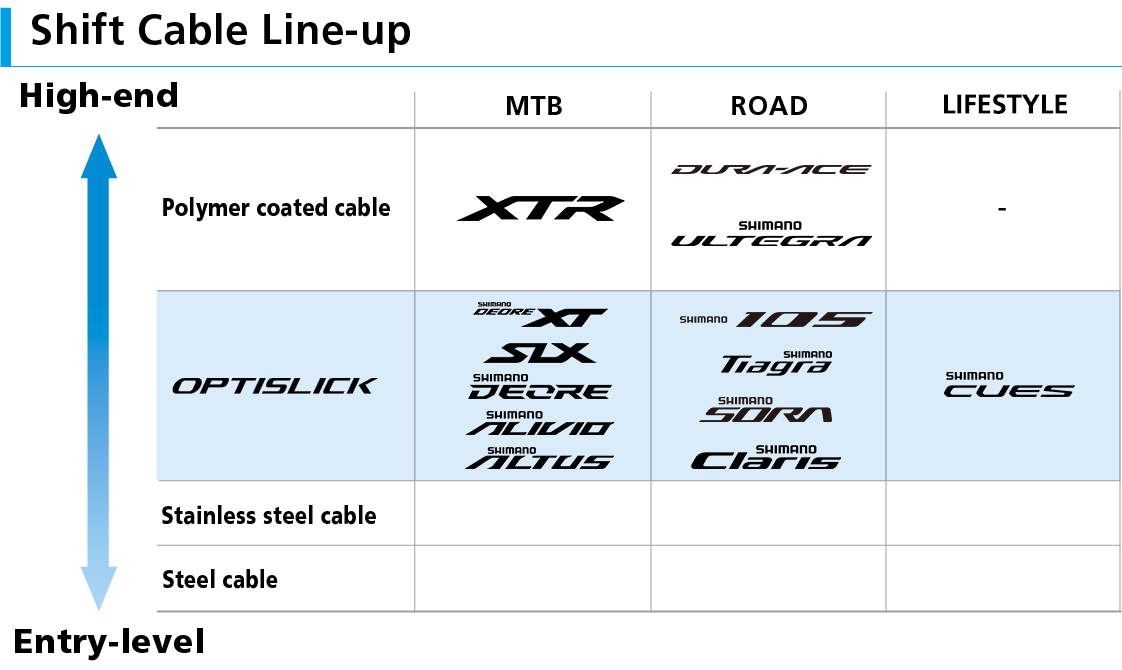 Front Derailleur

---
• Horizontal movement follows the chain direction
• Smooth & efficient front shifting effort
Improved Routing Efficiency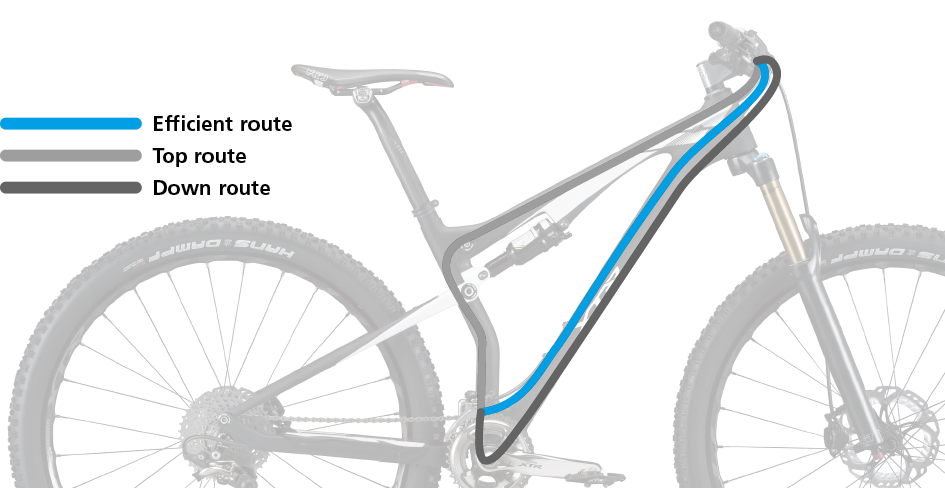 Cable Route Efficiency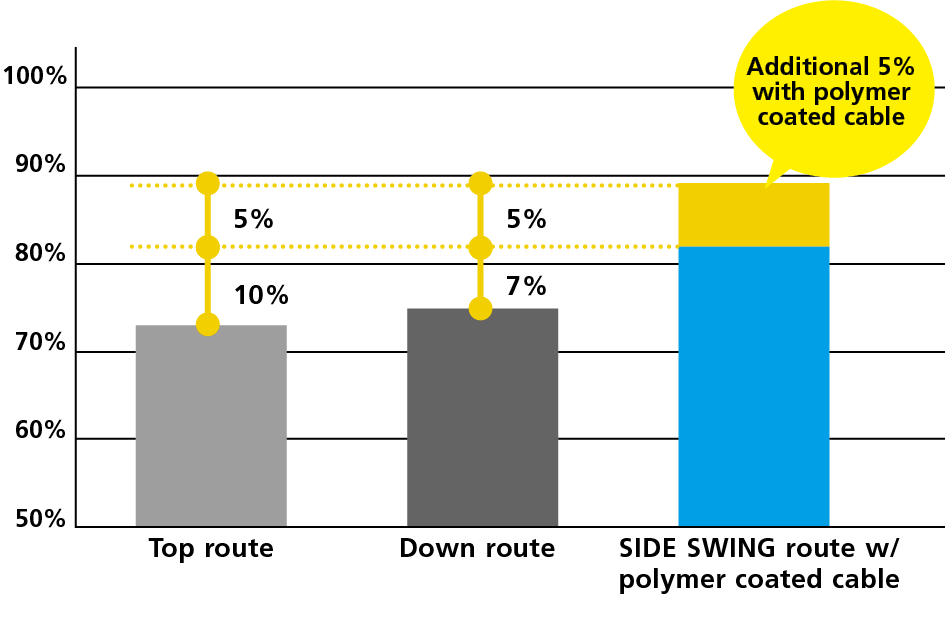 More tire clearance for larger wheels
• No linkage behind seat tube
• Freedom to reduce chainstay length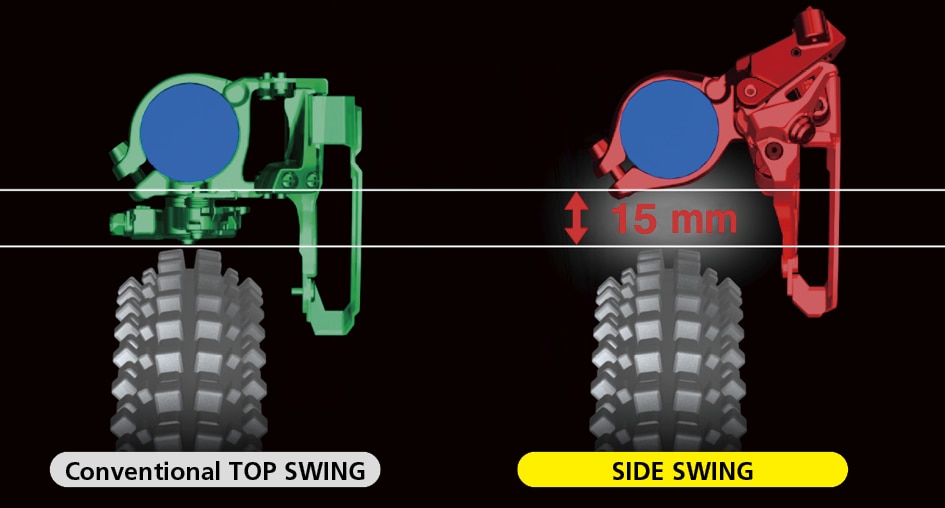 Added design flexibility shorter chainstays improve bike control
50% More Powerful Outward Shifting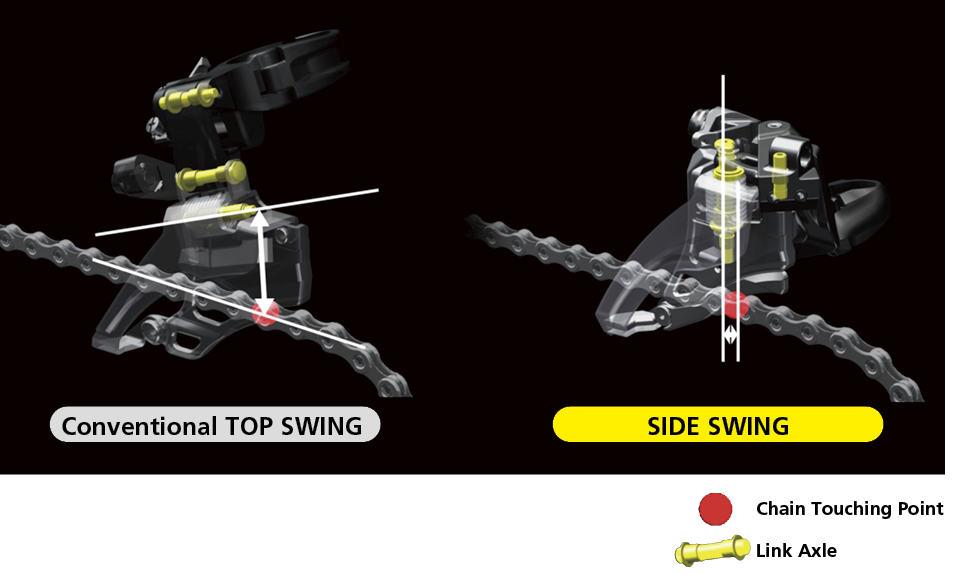 Wider Chainstay Angle Increases Traction Range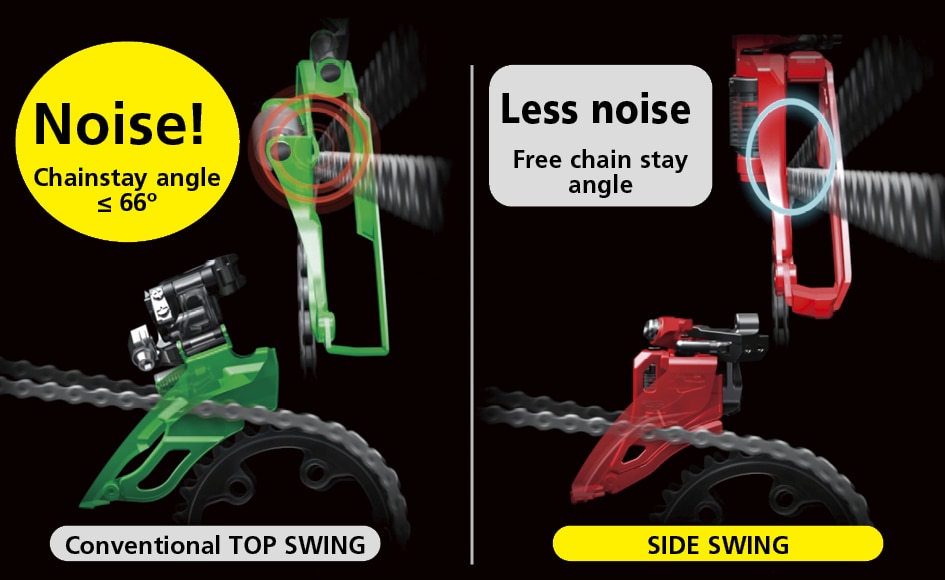 ---
Because the moving pivot section is set at a higher position and combined with a shorter link, the rigidity is higher; so quick and light shifting is possible.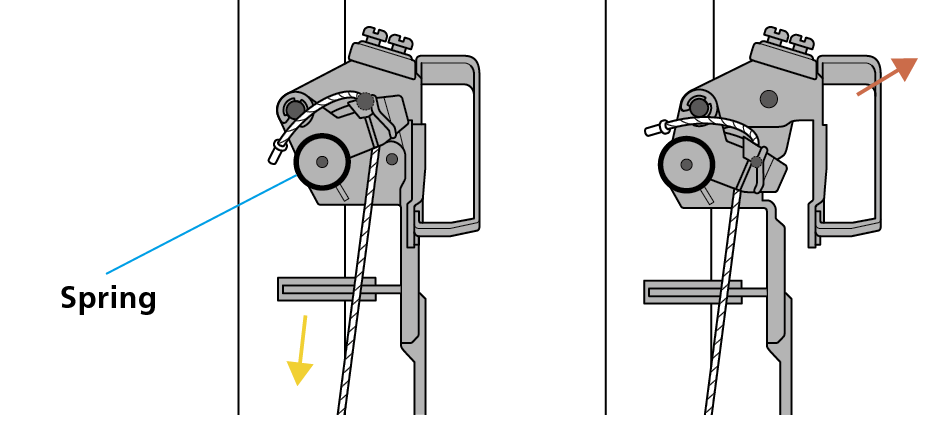 Crankset

DYNAMIC CHAIN
ENGAGEMENT+
---
SPECIAL GEAR TEETH FUNCTION
SHIMANO's DYNAMIC CHAIN ENGAGEMENT+ is a special gear teeth profile designed for use in single-chainring configurations for XC, enduro, and trail riding.
It gives more chain retention and smoother pedaling - even over bumpy terrain. Chain retention of any gear will reduce abrasion and wear out.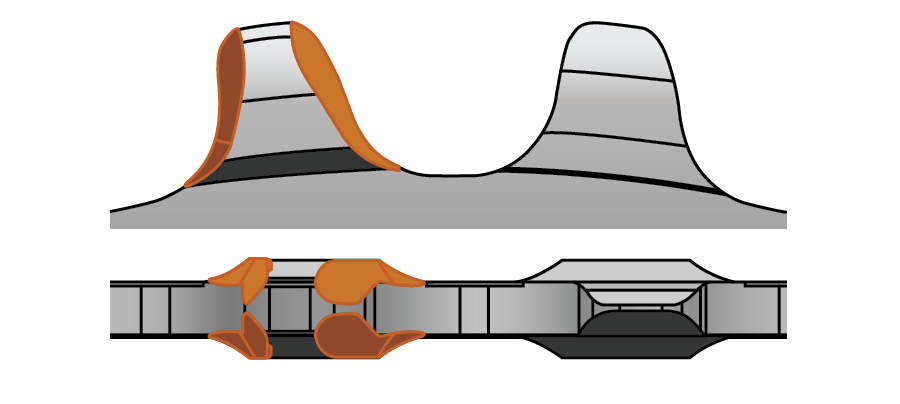 HOLLOWTECH Crank Arm
---
Hollow forged crank arms
A lightweight crankset not only reduces the bike's weight, but decreases rotating mass to aid in acceleration. The challenge is to reduce the weight of the crank without reducing its strength and rigidity.
SHIMANO's advanced forging technology has solved the problem through the HOLLOWTECH crank.
Just like high quality frame tubing, a hollow crank arm can provide amazing strength and rigidity at very lightweight.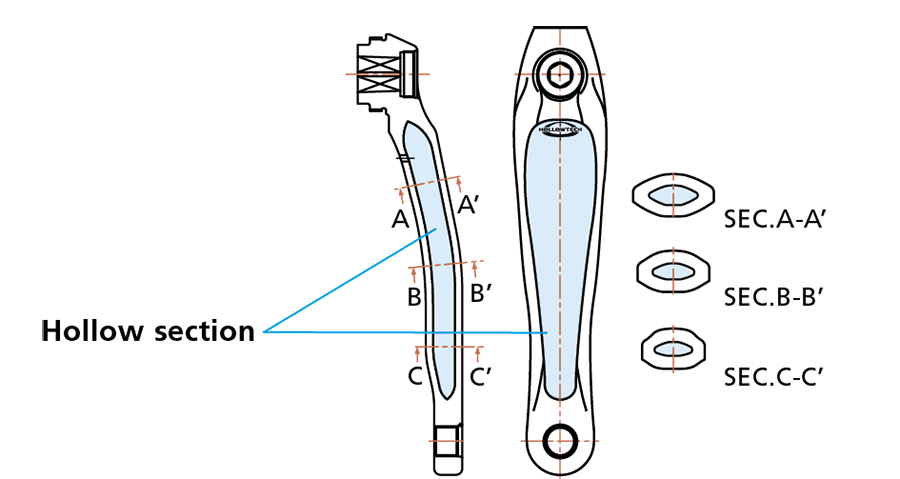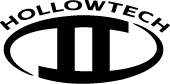 HOLLOWTECH II technology
---
Providing the best balance of stiffness, strength, weight and rotating performance
The concept of HOLLOWTECH II technology is focused on producing a superior crankset which will maximize a rider's power transfer. The rigidity of the crankset ensures pedaling efficiency while its weight, a key element of the crankset, you want light, aids in cycling longer distances over which the rider needs to pedal more. Naturally, SHIMANO strove for the optimum balance between the conflicting needs of stiffness while producing a lightweight crank.
HOLLOWTECH technology is an ultra-lightweight hollow crankarm created by SHIMANO with the company's own proprietary forging technology that also maintains rigidity. The addition of HOLLOWTECH II technology integrates the bottom bracket axle with the right crankarm for more stiffness and a weight savings to achieve a high-dimensional balance. Its outboard bottom bracket bearing system provides better weight distribution and more pedaling stability, allowing for more efficient power transfer.
The HOLLOWTECH II crankset has been developed by pursuing the optimum balance of stiffness & rotating performance in a lightweight and beautiful crankset design.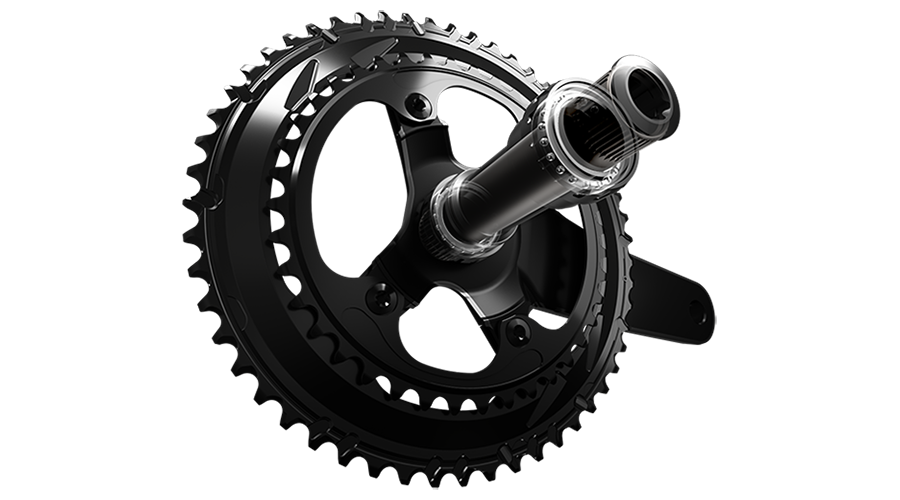 24 mm diameter axle and bearings
Why choose the 24 mm axle and bearings for the HOLLOWTECH II crankset? The diameter of the bottom bracket axle and bearings was of primary importance for the development because the bottom bracket axle area is tied to such key elements as stiffness, strength, weight and rotating performance.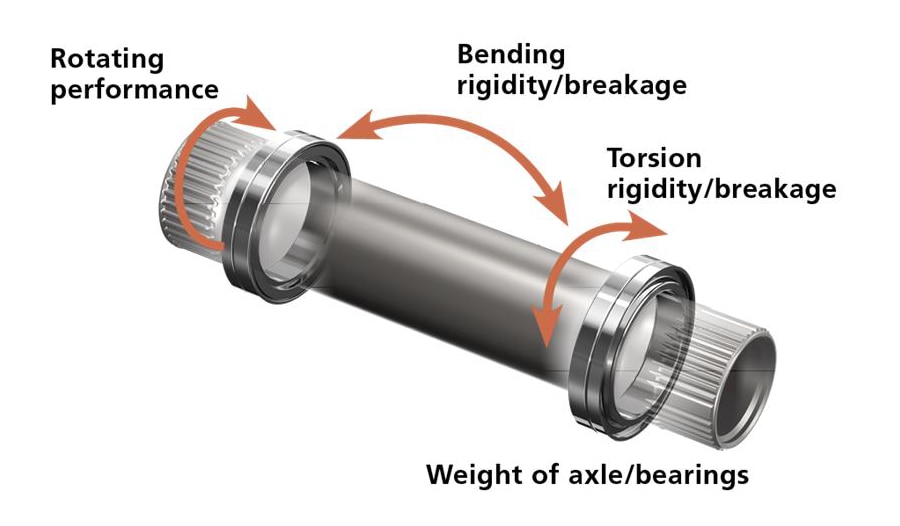 What's important is the total balance of crankset
In addition, taking the crankset as a whole, the total balance of crankarm rigidity, axle stiffness, bearing position and others is essential. Indeed, the crankset is designed by careful consideration of the total balance of those elements to prevent breakage.
Outboard Bearing
For most frames with 68 mm bottom bracket shells, HOLLOWTECH II with 24 mm axle can set the bearing position outside of the frame to provide better weight distribution and more stability.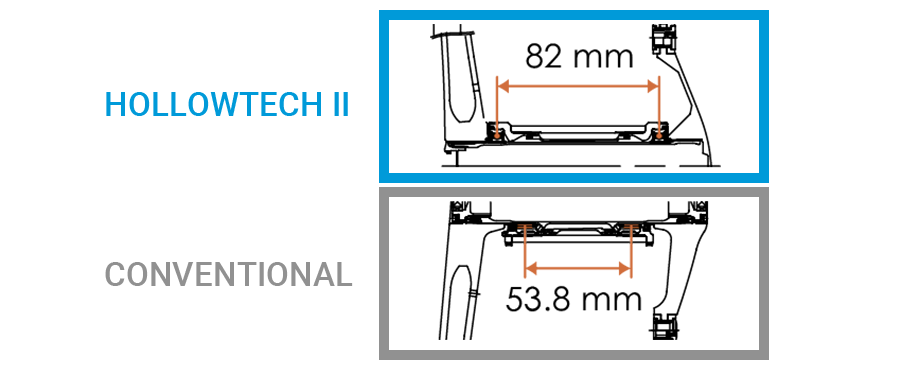 High Precision Sealing
Moreover, HOLLOWTECH II crankset has a high-precision sealing in the bearing area to increase durability maintaining the excellent rotating performance for long periods.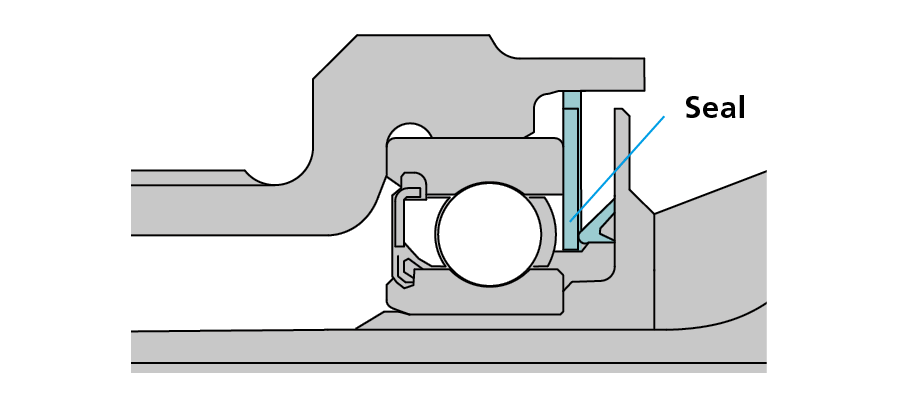 24 mm diameter axle and bearings provide optimum balance for the crankset
After studying all these problems thoroughly, we made the decision to adopt the 24 mm diameter axle and bearings, which have the optimum balance, for the HOLLOWTECH II crankset. In addition, an examination of the total crankset, including the crankarm and gears, proves the optimum balance of rigidity, weight and rotating performance for the ultimate transfer of power to your bike. HOLLOWTECH II is simply the most optimized crankset design on the market.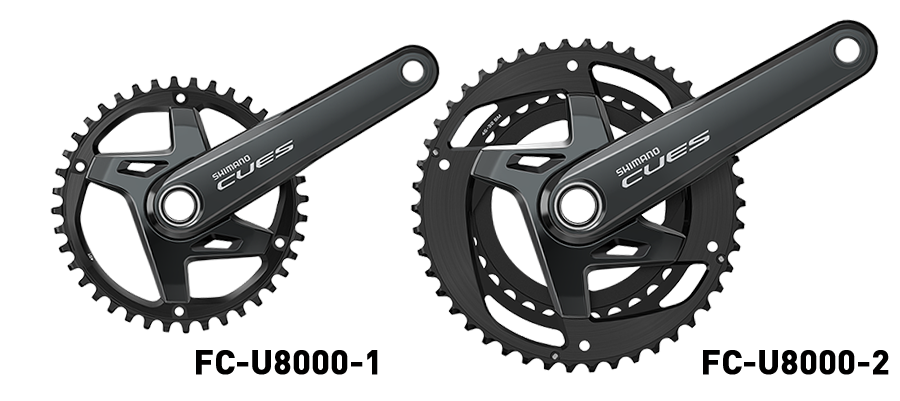 Rear Derailleur

SHIMANO
SHADOW RD+
---
Less distraction quiet drivetrain
Rear derailleur stabilizer reduces chain slap
Simple solution for chain drop
Lighter and more efficient than roller type chain device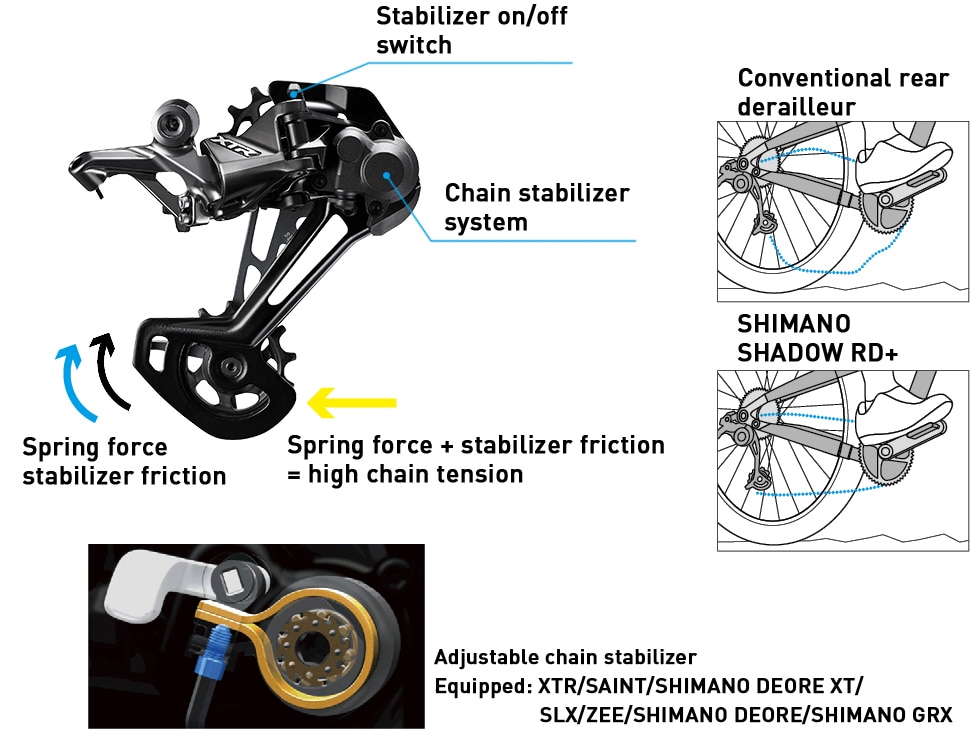 SHIMANO
SHADOW RD
---
The mechanism rear derailleur, SHIMANO SHADOW RD, is intended for more aggressive riding. Its super low profile design carries many benefits. Because of its low profile and single tension construction, the derailleur does not hit the chain stay in rough riding conditions. The result is smooth and silent performance.
Low profile design (Top gear position)